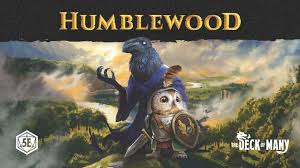 Welcome! This month Scott and Chad are back at it. And they brought their friends. They brought their gaming group Al, Lou, Nicole, and Pete to sit and talk about Humblewood. The newest game that our group is running. It is a variant setting to the D&D 5th edition game. Sit back and enjoy the show.
We want to hear from you, do you like what you hear? Do you have a question about something we said in an episode? Let us know and we will read your thoughts on the next podcast.
If you want us to research and talk about a topic your interested in please drop us a line at one or more of the following places.
You can find us on Facebook @eclecticmediaproject or at @want2hearsoemthinginteresting or you can drop us a line at eclecticmediaproject@gmail.com either way we look forward to hearing from you!
We are on Podbean and iTunes as Eclecticmediaproject.
Tweet us on Twitter! @EMPScott or @ChadEmp
Check out our website: www.eclecticmediaproject.com 
Sources:
Deck of Many's Humblewood setting
Scott Ahern
Chad Knight
Pete Miller
Al Seeger
Lou Schwalbach
Nicole Schwalbach